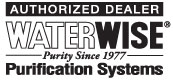 ---
Click a Topic For More Information From WaterWise Purification Systems

Evolution of Pollution
Purity Guaranteed
Comparision of WaterWise Water Treatment Technologies
Hydrologic Cycle
Your Body is 60-70% Water
What's in Your Water?
Pure Distillation Process
"Bottled Water" - What's The Real Cost?
Ten Commandments of Good Hydration
Water Does Your Body Good!